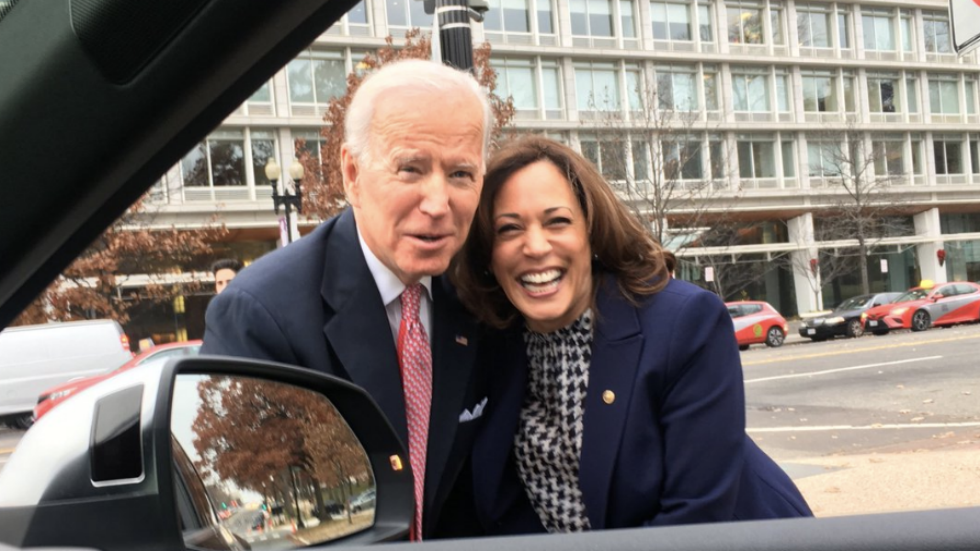 Add women, change politics. The world needs more Canada. Because it's 2020.

Wait a sec, what's Joe Biden's precedent-setting pick of Kamala Harris as his VP got to do with the #cdnpoli world?
Betcha didn't know, she's a Montrealer by extension. (Cue Donald Trump to demand she produce her birth certificate proving she's not, in fact, related to Justin Castreau.)
Kamala's classmates at Westmount High School are no doubt once again cheering the ascendancy of their fellow alum, just as they did when she announced her bid for the top job.
And apparently they feel a little more enthusiastic about Westmount joining the ranks alongside Jean-de-Brebeuf, which has produced.... some other leaders you might have heard of.
In the yearbook photo of the 1981 graduating class at Westmount High School near Montreal, the left hand of a beaming Kamala Harris is resting on the right shoulder of Hugh Kwok.

When Kwok was asked in December [of 2018] for his thoughts on his old pal's [then-]potential run, he answered a reporter's question with a question.

"She's running for president of what?" he asked in a tone that suggested he thought the answer might be the local Rotary Club.

Informed that it was the presidency of the United States, his voice rose. "No way. Oh my goodness. I can't believe it," he said. Then he decided he was supportive of this idea.

"We could use a good president," he said. "She was a sweet, kind person. Very happy, very social. I'm just very excited for her, if that's what she wants to do with her life."

It is now possible that Westmount, the 145-year-old public school where singer-songwriter Leonard Cohen and hockey legend Art Ross also studied, will produce a U.S. president before it produces a Canadian prime minister.

She didn't make it this go-around, but since Joe has said he's only going to stick around for one term... there's always 2024.
And with Biden's campaign manager and top advisor, Jennifer O'Malley Dillon, being a veteran of two Team Trudeau campaigns (who he brought on from Obama's...), a Biden presidency is going to get a whole lot more Canada, because everybody knows the world needs more Canada.
(As a bonus, today's news takes some focus off the insufferable scandal-mongering that the Cons and their enablers are still trying to foment about the stupid Clinton Cash thing. Perhaps this will give some Canadians a bit of nostalgic perspective on how well the Trudeau government worked with Obama, and cause them to give a big old "nope" to any thought of Cons being the ones to receive the new administration.)

I hope all the stars finally align and that 2021 produces another Great Reset: not just for U.S./Canada relations but arguably the most adorable co-ed cross-border diplomatic double-date the continent has ever known. Biden/Harris, and Trudeau/Freeland.
Never let it be forgot, that once again there can be a spot, that is known as... Canalot.